Details
According to the latest tally,China Parent-Child Industry market size has exceeded 2 trillion yuan for now.Two child policy promoting population growth expanding family base,consuming capacity sees a huge increase and increasing consumer demand for Parent-Child products. It is expected that the overall market scale of China's parent-child industry will usher in a period of rapid growth in the future.Market size will to exceed 3 trillion in 2018.
---
---
ABOUT PARENT-CHILD EXPO
To help upgrade the Parent-child Industrial, promote the rapid development of the parent-child industry, pass a conception of a new concept of parent-child life.ShanghaiInternational Parent-Child Expo(Parentingfair) was approved by MOFCOM and hosted by China International Center for Economic and Technical Exchanges Shanghai Household Services Association.Organized by Shanghai Bellitas Exhibition Co. Ltd. After three years of development are growing rapidly. Companies participated in the exhibition from all the world,professional visitors and parent family quantity are rising trend year by year.Now it has become an important platform for parent-child industry brand promotion,capital connection,business negotiation,channel expansion(B2B)and recruits students,family experience(B2C).
The 4th Shanghai International Parent-Child Expo(Parentingfair)Will be held on March 29th to April 1st, continue to a wonderful perform.The exhibition will be through a wealth of products,high-end interactive activities and a variety of display depth affect the parent family, help brand penetration ,thereby affecting the depth of professionalvisitor.More innovation than past few years.
---
---
EXHIBITS RANGE
--Parent-child Education--
1. Children training institutions: Language training institutions, Art training institutions, Sports training institutions, Educational institutions and other training;
2. Kindergarten, Early education institutions, International schools, Study abroad, Young convergence, Mathematical Olympiad classes, etc;
3. Camp education, Summer camp (Winter camp), Parent-child camp, Parent-child training etc;
Creative Education: Robot education, Children's programming, etc.
--Parent-child Service--
1. Parent-child service: Parent-child photography, Parent-child DIY, Indoor amusement park, Children's play center, Children's professional experience, Children's swimming center, Children's hair, Theme restaurants, Children's insurance, Special financial services, etc.;
2. Parent-child reading: Children's publishers, Digital/Electronic publishers, Bookstores, and Books, Textbooks, Books, Audio books, Book,Picture books, Illustration/Card books, Painting and coloring book, Art museum, Parent-child picture book etc.;
3. Family Travel: All kinds of hydrophilic/Spa/Beach/Cruises, Theme parks, Ecological experience, Scientific exploration, Extreme sports,Overseas study topics such as family travel, Domestic and outbound surrounding family travel, Customization, Yachts, Cruise / scenic spots /Theme park / Water park, Family hotel / Tourism resort.
--Parent-child Product--
1. Intelligent hardware / equipment: Educational toys, Teaching aids, Intelligent / Smart watch bracelet, Smart glasses, Smart security bags,Intelligent anti lost shoes, Smart thermometer, AR/VR products, Children's education, Children's learning of home robot robot, Child car seat and other security products and equipment etc.;
2. The whole Home Furnishing parent-child customization, Children's room, Baby stroller, Crib, Theme custom furniture, Household appliances and special children, Children's room decoration design, Air purification, Wall paint and wallpaper, The special children and other special environmental protection materials etc.;
3. Home entertainment facilities / equipment: Adventure, Magic, Animation, Fantasy, Dinosaur paradise, The future of the world, Underwater world theme entertainment projects;
4. Children's food: All kinds of dairy products, Health food, Health drinks, Health food, Snack foods, Sugar snacks, etc.;
5. Children's clothing: All kinds of parent-child clothing, Family, women's clothing, Mother and child, Children's clothing, Family clothing, Fitness/ yoga clothing, Outdoor holiday clothing, etc.;
6. Others: Children's health care, Children's genetic testing, Children's commercial complex, Large shopping centers, Children's shopping malls, etc.
---
---
KEY THEME AREAS
--PARENT-CHILD INDUSTRY BRAND INVESTMENT EXHIBITION--
In order to promote parent-child industry development, the Shanghai Expo set up retail brand parent-child parent-child Franchise Exhibition. For the parent brand and commercial real estate projects, individual investors to provide a platform for efficient docking, so that high-quality commercial real estate projects to find businesses, investors can easily find the right investment projects.
--FAMILY TRAVEL、SCENIC SPOTS AND HOTEL EXHIBITION--
To promote the development of family travel, The Shanghai parent-child Expo has set up parent-child family
travel, scenic spots and parent-child Hotel exhibition, exhibition will create a parent-child theme, gathered
domestic and foreign high-quality family travel resources and services, for the channel, professional audience
and numerous parent-child family show rich and diverse tourism products, and is committed to provide an
effective platform for exhibitors to develop parent-child family travel market.
--PARENT-CHILD INTELLIGENCE TECHNOLOGY AND AR&VR EXHIBITION--
In order to promote the development of intelligent technology products, display the domestic and foreign science and technology achievements,.The Shanghai parent-child Expo has set up intelligent technology and AR, VR exhibition areas."Growing up happily, Enjoy Technology" as the theme for parent-child intelligent technology products AR VR industry to build a parenting experience, technical exchanges and cooperation, improve the distribution of trade.
---
---
TARGET AUDIENCE

1. Parent / Education / Training institutions / School / Kindergarten / Early education industry teachers, Principals, Responsible person, etc;
2. Join investors / Cooperation / Industry elite, etc;
3. The provinces and cities of the industry, Wholesalers, Agents, Distributors, Retailers;
4. The parent industry E-commerce, Industry department stores, Supermarkets, Parent-child industry import and export business;
5. Travel agency / Rravel agent / Online booking / Hotel / Cruise / Yacht / RV camping / Scenic spots / Theme park;
6. Commercial complex / Large shopping malls / Shopping centers / Community commercial street;
7. Shanghai and the surrounding 0-14 year old school-age children in the high-end income parent-child family;
8. Government / Industry Association / Professional media / Others.
---
---
Brand exhibitors converged on scene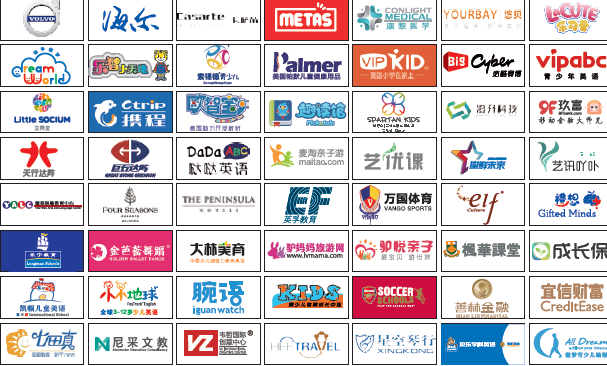 ---

---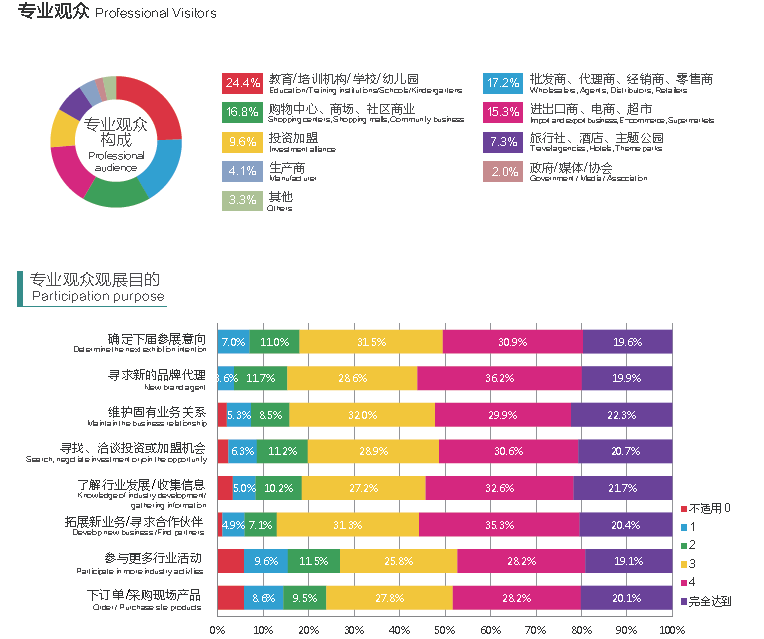 ---
---
EXHIBITION FEE AND SCHEDULE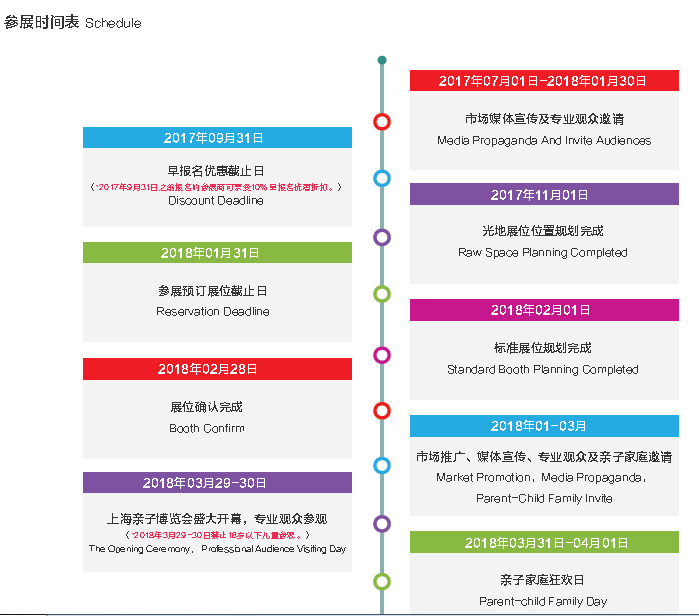 --Contact info--
If you have any question or want to be our exhibitor , please contact us.
Overseas Director : Charles Yin
Tel: 0086-21-60193139
Phone: +86 15921230285
Fax: 0086-21-52900287
E-mail: charles.yingfair.com
When and Where
Starts
March 29, 2018 at 9:00 AM
Ends
April 1, 2018 at 5:00 PM
Shanghai Exhibition Center ,Shanghai, China